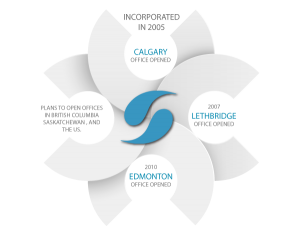 Since 2005, ASE Services has been providing environmental health, safety, and hygiene services throughout Alberta and Western Canada. In 2013, we were one of the main consulting companies that assisted with the clean-up efforts after the disastrous flood in Calgary, High River and the surrounding areas. In 2016, ASE Services was called in to Fort McMurray to help address air quality issues within the buildings that had been damaged by the wild fires.
ASE Services' reputation is built on our ability to manage each project professionally from your initial phone call to the final detailed report that we provide at the end of each project. Our priority is ensuring the environmental safety of commercial, industrial and residential projects by properly assessing, addressing and managing hazardous materials.
Headquartered in Calgary, with offices throughout Alberta, ASE Services can assist you wherever your project needs are required. We often work throughout Western Canada and have conducted projects as far north as Inuvik and as far east as New Brunswick. ASE Services' trained and educated staff works with you to plan, implement, and then execute the appropriate course of action from identifying hazardous materials and contaminant concerns to assisting with remediation.  We structure our services to meet the needs of our clients.
Contact us today!